Video surveillance
Observing the personnel behavior you can spot out how its changes when the boss comes in. Personnel turns to be polite, busy and professional. But the boss leaves and we have a different picture. Where have all this gone? Consumers often complain on personnel behavior How can we assess lost profit from unpaid money due to bad service?
We cannot guard every employee. But instead of a guard we can install a USB web-cam and we can record every customer's visit and talks with operator and then store this file on customer's personal account. The work revives, operators turn to be polite friendly and professional.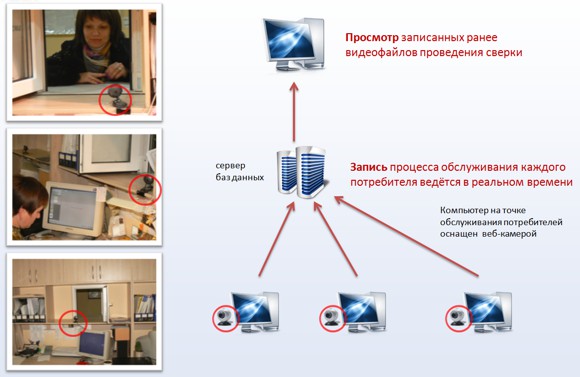 You can always analyze the work and prepare workshop to illustrate typical do's and dont's. If number of verifications in favor of consumer becomes less (often operators are afraid of scandals and potential conflicts and make decision in favor of consumer), the company earns more money.
---
Metabilling software application has option of video and audio recording.
Operator's workplace is equipped with web-cam and microphone. Video recording is switched on automatically the process can be controlled manually.
Any time you can check financial result and watch and listen to talks.
All talks are recorded and saved as a video clip which is stored in electronic copy of verification report.
Web-cam makes operator and consumer polite.
Quality of service in affiliated offices is controlled.
Number of verifications in favor of consumer falls.
Video material is used for training workshop.
Any consumer's complaints are analyzed with recording.
Automated video and audio recording is cost effective and helps to maintain high quality of service.