Self-service via Internet
Megasoft company developed and introduced the system of utility services selling based on Megabilling system.
Consumers connect with provider server and automated system performs all services.
Customer should introduce himself to the system and show how much utility service he wants to purchase.
Provider's server evaluates immediately the real situation with the utility service and reserves it in the customer's e-book
If a debt appears the customer can generate verification report and pay the debt amount in any bank or via Internet
The customer can make verification report for any date, this report may be signed with e-signature
If the consumption is less than reserved all operations on consumption, calculation and re-calculation of cost are performed without personnel
System link - www.mega-billing.com
Internet access to the system is an advantage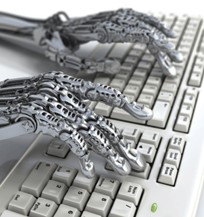 The main peculiar feature of this system for individual and industrial consumers to purchase utility services via Internet is that the consumer has direct access to the billing system and acts as a Party to a purchase deal and concludes a deal in the real-time. There is no need of personnel participation everything is automated (if the need arises the billing system blocks the customer).
After the customer is registered/introduced as a user to the system the system generates e-customer's book which is exact copy of a hardcopy book, for industrial consumers - the history of payments is presented. The system can provide detailed legend for accruals and services cost (consumed services), form "Verification report" and other documents. On inputting readings from meters by a user the system performs real-time computing or re-calculation of utility services consumed and generates a: bill for the user which is automatically signed with e-signature. When a user pays via Internet the system instantly shows the paid amount on the user's account and re-calculate the amount left for consumed services.

Automated billing systems for utility services for individuals and industrial consumers in the market give new prospectives for utility services selling.
Similar systems
We failed to find any systems similar to our for the time of publishing of this material. If there is no possibility to pay via Internet for legal entities the individuals can do this sometimes Some of major provider have option of a personal account or profile where a user can see his/her payments, balance and balance list. Sometimes calculator application built in Internet browser helps to calculate how much a user should pay, this calculator works separately from a billing system and the debt amount very often does not correspond to actual amount liable to be paid for consumer services. Besides, readings of the meter which serve as the basis for calculation are not input into billing system directly (or at all) and operator inputs them manually at time of verification. Thanks to Internet banking there is option to pay via Internet almost in all systems but to check money on a personal account you will have to wait several days (unto 14).
System's popularity
The launch of our system of utility services consumption for individuals and industrial consumers awarded a lot of positive remarks from the users and revived billing system developers competition activity. However nobody has developed a system similar to ours. The explanation is simple - the calculations should be transparent and accurate otherwise service provider may have troubles with unsatisfied clients. More than that the billing system must have reliable protection against incorrect readings, a possibility to do calculations automatically and simple, effective trust-building mechanism that calculations are correct. When operators cannot understand the reasons for debt, Internet user also understands nothing.