E-signature
E-signature has become essential in the fast-developing world of e-services, now it is as popular as a seal and signature on the paper. E-signature actually duplicates the login process in the system but there is a difference - login gives rights to operate in one system, e-signature is acceptable in all systems. Besides e-signature is used by both parties whereas login authorizes actions of only one user. It is clear that to forge the e-signature is much harder than hand signature and identification of e-signature does not require notary certification or trial proceedings (for individuals). To make copies of documents certified by e-signature you can copy the files with these documents, both files will have equal legal force. If consumer's hard drive fails the copies of documents can be retrieved fro provider's server. More than that to close the deal the customer does not have to visit provider's office, he/she can sign all documents with e-signature in his/her office, home car etc.
Megabilling system with e-signature option gives the possibility to have electronic document flow.
How e-signature works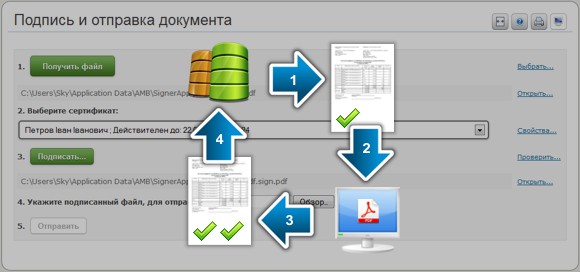 A PDF document is created on service provider server. This document is stored in personal account database and can be downloaded by the user or by provider's personnel via Internet.
The file is signed with e-signature of the provider and user downloads it via Internet.
If a user has e-signature he/she can sign the file with a help of integrated application on interface of the web-site. User's signature can be added to the provider's signature.
Signed file is downloaded on the provider's server and stored in the database.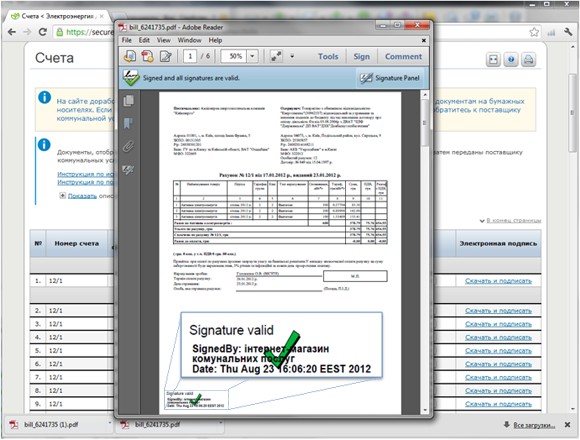 E-signature ensures file's integrity. If the file is changed the signature changes its status indicating that data are changed.
To use e-signature you should have
Any Internet browser, except Safari.
Java runtime application.
E-signature certificate.
Stable access to Internet.